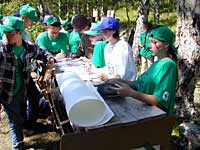 A net of green schools is the international net of schools united by a common creative idea of biodiversity conservation on the local level, common practical activities aimed at environment conservation and the improvement of life's quality. Like public and social units, green schools are one of the effective instruments to impact the local population.
A net unites Green schools of countries - participants of the program Tumen Net: China, Mongolia, South Korea and Russia. There are 24 countries. It is assumed that these schools will communicate with each other, organize actions and share their experience.
The Chinese Colleagues from Jilin Province were the first ones who initiated the creation of Green Schools' net. Besides schools they offer kindergartens to be involved in the net.
The Far Eastern Branch of the Russian Agency of WWF together with Primary Institute for Retraining and Advancement of School Teachers (PIRAST) held the competition between the schools of the South-West Primorje for the "Green Schools" status. In agreement with the terms of the competition the Russian Green School, being the unique methodical center for ecological education, not only studies deeply ecology, but also chooses the daily ecological sustainable behavior for itself. It means it watches the state of the territory surrounding the school and its constructions, treats economically to resources, and actively interacts with local population in practical activities on environment conservation and the improvement of its quality. The green school is a specific school policy, but not to a set of ecological school disciplines and certain events.
First workshop about creation of network of green schools was held in sanatorium "Morjak" in 27 - 28 November. As a result, the follow organizations were award a status "green school":
School of sett. Zarubino,
School for young children of sett. Bezverhovo,
Gymnasia of sett. Slavjanka
High school #22 of Vladivostok-city.
The green schools is the important part of Programm of ecological awareness for population of territory "TumenNet" project.
The Russian Green Schools took part in the first International event, such as the educational program Tumen-NET - the competition for the best children's pictures " I like my region". The pictures of winners will be published in the calendar, which will be distributed over the territory of all the countries - participants of the project.
A Green School is a guide of new education, which is aborning before our eyes. It is directed to the decisions of the actual concerns related to social, economic and cultural life of society and activity of the individual. Education is based on cultural traditions and the religious strategy of the territory development. The first training program unit " The lovely rainbow", which is specially developed by the specialists of FEB-WWF and PIRAST for the Russian part of the net of Green Schools, is devoted to the very ideas of sustainable development.
For more information visit TumenNet Environmental Information System Website
Text was prepared by WWF(Vladivostok)